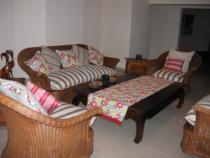 The essence of interior design will always be about people en how they live. Surround yourself with what makes you happy.
We at Carma Textile Manufacturers have almost 10 years experience in the soft interior trade. Each client is treated as an individual with close consultation for an end product that has the client's personality entwined in the design process and end product.
We specialize in:
Curtaining
Soft furnishings
Quilts
Night frills
Throws
Material and wooden blinds
Scatter pillows.
Our goal is to enhance your existing style, using the expert knowledge, creativity and warmth that we've become known for.
What sets us apart:
The recognition we've received. We are extremely proud of our work and we put effort and dedication into each project. We strive to deliver the best to each and every client and make their living space a happy one.